How do you resolve an issue that occurs in a different work site or even in a different building on the same premises? Save the walk! Work across workstations effortlessly with ServiceDesk Plus On-Demand's remote control feature. To step up your IT productivity, coordinate your IT operations across sites and troubleshoot issues without having to travel long distances. You will experience reduced incident response times, faster resolution times, significant cost savings, and increased user satisfaction.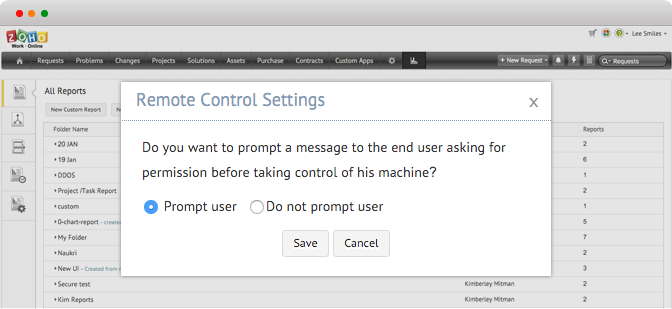 Take control of your sites from anywhere. Boost IT productivity.
Initiate a remote control session effortlessly from your web browser. You can also scan assets and start remote sessions automatically.
Work with confidence on completely secure sessions. The remote control does not need exclusive ports and uses the ones opened for asset management.
Converse instantly with your end users using the messaging panel from your remote support user interface.
Enjoy unlimited transfer of various types of files including images, docs, spreadsheets, and more over a secure connection.
Connect remotely with any combination of operating systems (Windows-Mac, Mac-Linux, and Linux-Windows), without changing your settings.