Do you receive requests that don't have adequate information? With ServiceDesk Plus On-Demand, you can create unique custom fields, get the information you need from end users, and provide prompt workarounds and resolutions.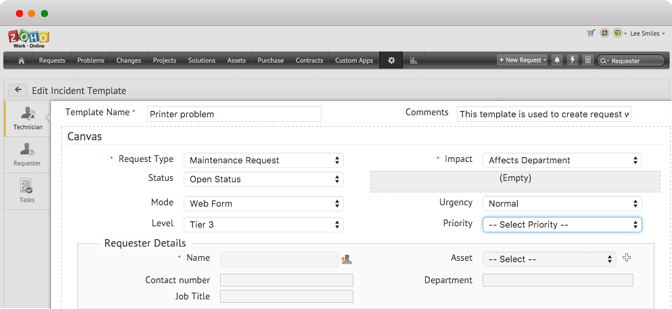 Collect relevant details with built-in forms. Make way for accurate requests.
Create forms by simply dragging custom fields to the canvas.
Configure additional fields in different types such as single or multi-line text fields, pick lists, numeric, and date or time and add them to the canvas, as applicable.
Enable separate form views and edit permissions for technicians and requesters.
Assign expert technicians to requests by linking them to the specific form.
Include resolutions in request forms to finish faster.
Choose your audience for each form by associating specific user groups.
Link workflows to forms. Automatically trigger a flurry of associated tasks.
Select existing SLA rules or create new ones and associate them with custom forms.
Associate tasks to your custom forms by selecting from task templates or add your own tasks. You can also trigger tasks automatically upon events such as ticket creation and approval.
Organize associated tasks and define the order in which they should be triggered.
Allow five stages of request template approval with multiple approvers at each level.
Send approval notifications automatically when service requests are created, determine if all configured approvers have to approve the service request, and more.